Enjoy the sounds, smells, and sights of the gardens surrounding the Hotel Tigaiga and its plants from various parts of the world. A relaxing atmosphere complemented by the Atlantic Ocean in the background in Puerto de la Cruz.
We offer guided tours so that you can get to know our wide variety of plants.The tour around our botanical garden is like a trip around the world through the flora of the five continents
Our hotel restaurant service offers an exceptional dining experience. We have restaurants for fine dining and a bar/cafeteria for more casual options. We use fresh, high-quality ingredients.
We strive to exceed our guests' expectations with a wide variety of culinary choices and exceptional service in a welcoming and elegant atmosphere
Nothing better than a swim after a day's excursion to refresh your body in our solar-heated swimming pool.
And if your passion is table tennis, at the Hotel Tigaiga you can enjoy outdoor games in the shade of our gardens. Our pool attendant will be happy to provide you with the rackets.
Or if you prefer to play chess, with views of the Atlantic, we offer you a fun space where it will be difficult not to be distracted by our views while you checkmate your opponent.
Celebrate special occasions with us in a unique setting, where open spaces, natural light, and our beautiful gardens become the perfect backdrop for creating unforgettable moments.
Our commitment is to provide you with a tailor-made experience: customized menus that cater to the most varied tastes. Let us be a part of your happy moments and make your celebration unique and memorable!
We are here to make your time in Tenerife special and filled with memorable moments!
Explore the nature of Tenerife
through exciting hiking or biking trails,
join an environmentally-friendly journey aboard an ecological boat,
immerse yourself in the magic of the night sky from Tenerife's unique perspective….
a relaxing moment to feel renewed, a professional massage helps restore energy levels, tranquillity, and balance.
Ayurveda, Reiki, lymphatic drainage, and foot reflexology are all at your disposal to take care of you. We have a unique sauna overlooking the Atlantic Ocean.
For schedules and reservations please contact the Naturvida Centre: +34 607 565 392.
Explore our boutique and discover a selection of unique-style jewelry, t-shirts, and handbags. We invite you to take a piece of Tenerife home with you with delightful souvenirs.
In our "Restaurante Jardin", we welcome you to a day filled with sweet moments. At the breakfast buffet, you'll find a wide variety of small delights with local and international flavors to start your day with energy. If you prefer, you can also enjoy an outdoor breakfast on the charming "La Placita" terrace.
In the evening, we offer a table-served menu, complemented by a wider selection at our buffet, which includes salads, desserts, and other specialties. To ensure an elegant evening, we recommend gentlemen wear long trousers.
We deeply care about your well-being, so please inform us if you have any allergies, food intolerances, or are following a special diet. We are here to provide you with the best alternatives and ensure your stay is memorable in every way. We hope you enjoy every bite and moment with us!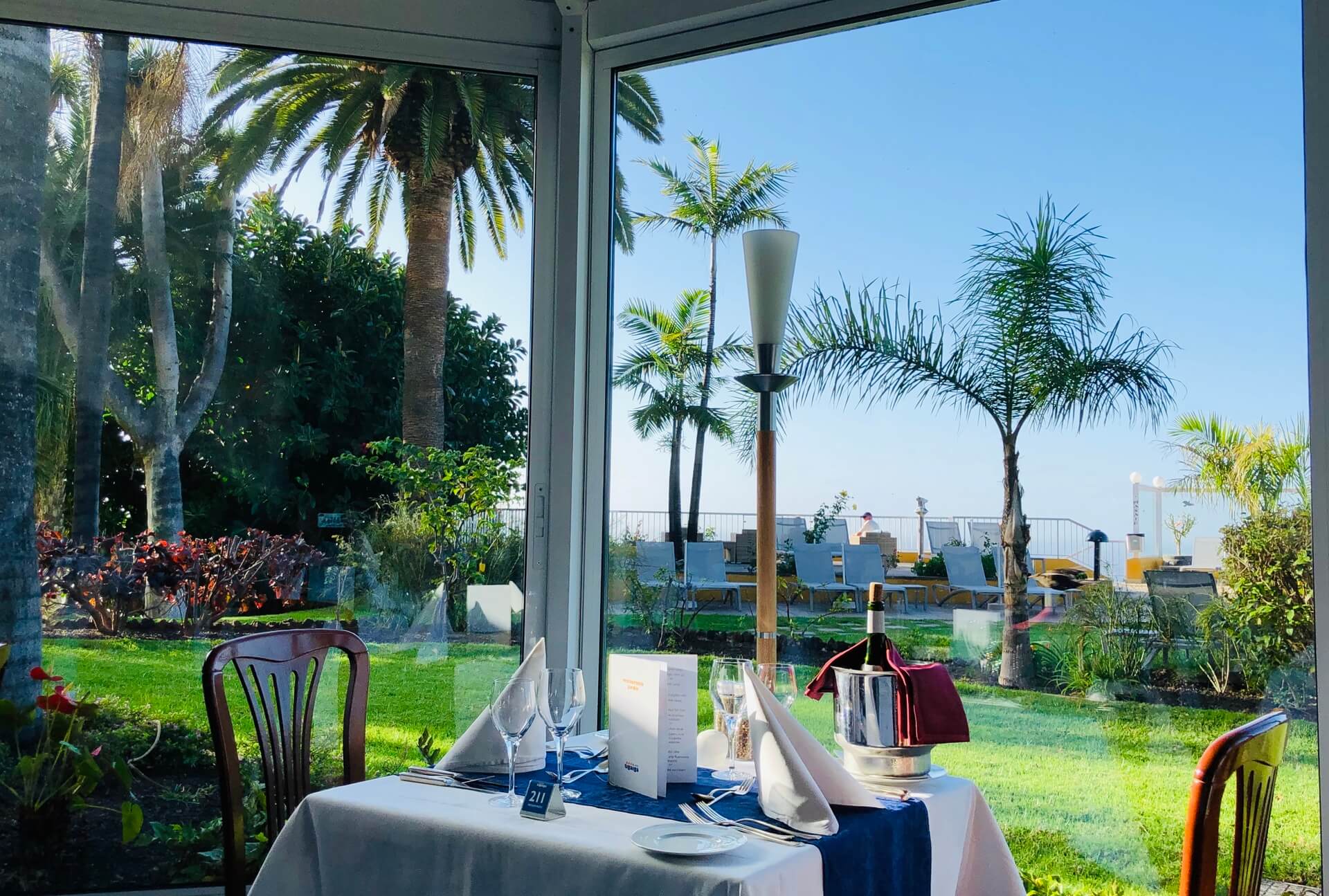 On the terrace amidst the beautiful gardens of Hotel Tigaiga, a gastronomic experience awaits that will completely captivate you.
There are countless reasons to visit our restaurant: the serenity in the air, the spectacular views, the local ingredients, and the Canarian and international flavors that merge in each dish. Dare to be enchanted by the charms of our cuisine.
If you're looking for a more private atmosphere, we invite you to explore our "Tamadaya" private dining area, where we can prepare a specially designed menu for up to 20 guests, providing you with an even more personalized culinary experience.
We are here for you continuously, from 11 in the morning until 10 at night, so you can savor our cuisine at the time that suits you best. We look forward to seeing you soon and delighting you with our gastronomic delights in this special place!